Bridges
OPAC has successfully completed numerous bridge projects in North America, Asia, and South America. These projects range from complete engineering services to consulting in design, construction engineering, research, and evaluations.
OPAC Bridge Projects: (48 Total, 5 on this page)
---
Self-Anchored Suspension Bridge - Construction Engineering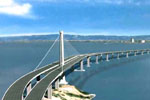 Engineering of temporary support structures for the Self Anchored Suspension Bridge signature span of the San Francisco - Oakland East Bay Crossing.
San Francisco-Oakland, California. Construction completion scheduled 2012
---
Hoover Dam Bypass: Colorado River Bridge - Construction Engineering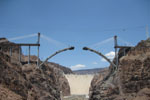 Construction engineering for a 1,090 ft concrete arch bridge downstream of the Hoover Dam.
Nevada-Arizona. Construction completion 2010
---
Iron Horse Trail Pedestrian Overcrossing - Construction Engineering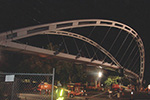 Construction engineering for a pedestrian overcrossing in Walnut Creek, CA
Contra Costa County, CA. Construction completion (estimated) 2010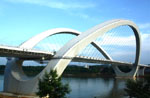 A 300 m span steel arch bridge across the Yong River. The arch ribs are steel box sections and the deck consists of a steel box girder with an orthotropic deck.
Nanning City, China. Construction completed 2009
---
Memorial Causeway Bridge - Engineering Investigation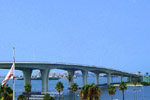 Engineering investigation of a segmental bridge that consists of a nine-span 2,340 ft long concrete girder.
Clearwater, Florida. Investigation completed 2009
---