Other Structures
Other types of structures in OPAC's portfolio include design and evaluation of cable-supported roofs, domes, sign structures, pipelines, thin shell concrete structures, towers, and movable roofs.
OPAC Other Structures (11 Total, 5 on this page)
---
Bay Division Pipelines 1 & 2, Dumbarton Crossing - Seismic Vulnerability Study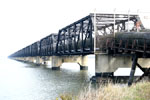 Seismic vulnerability study of the San Francisco Public Utilities Commission's major water pipelines.
Palo Alto-Newark, California. Study completed 2006
---
Temple Beth Sholom - Structural Peer Review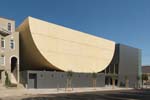 Structural peer review of a design of an unusual structural form.
San Francisco, California. Peer review completed 2006
---
Quad Graphics Rack - Collapse Investigation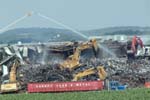 Engineering investigations of the collapse of an automated storage and retrieval system for magazine and catalog pages.
Lomira, Wisconsin. Investigation completed 2005
---
Cala Foods Store - Inspection and Evaluation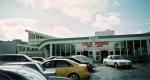 Engineering services in support of rehabilitation and maintenance of a 40-year-old thin shell concrete hyperbolic paraboloid roof and a structurally innovative catenary-slab parking deck.
San Francisco, California. Services completed 2004
---
Beijing National Stadium - Design Competition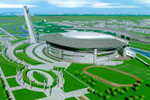 Design competition for the 2008 Beijing Olympic Stadium
Beijing, China. Design competition completed 2003
---