Bay Division Pipelines 1 & 2, Dumbarton Crossing
---
Palo Alto-Newark, California
Client:
San Francisco Public Utilities Commission
Date:
Study completed 2006
Scope of work:
Seismic Vulnerability Study
Construction cost:
N/A
Services Performed:
Prepared a seismic vulnerability study
Developed seismic retrofit recommendations
Performed decommissioning study
Prepared maintenance plan
Issues:
Seismic modeling and analysis of aging multi-span bridge across bay
Seismic evaluation of pipeline and timber trestle supports
Hydrodynamic modeling of pipeline seismic water hammer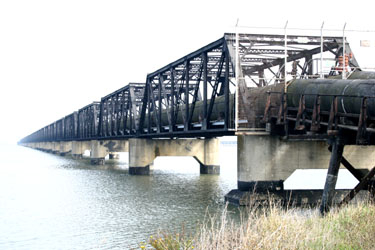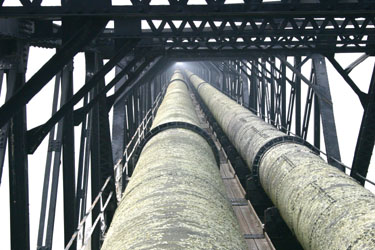 The Dumbarton Crossing of Bay Division Pipelines 1 and 2 (BDPL 1 & 2) crosses San Francisco Bay just south of the State Highway 84 Dumbarton Bridge. BDPL 1 is a 60-inch diameter riveted steel pipe constructed in 1925. BDPL 2 is a 66-inch diameter welded steel pipe constructed in 1936. These pipelines deliver water from Hetch Hetchy Reservoir to the Bay Area. The project limits are from the Ravenswood Valve House in Palo Alto to the Newark Valve House in Newark. The alignment at San Francisco Bay consists of a bridge section from the Palo Alto shore to the caisson and then a submarine section underneath the bay to the Newark shore. Adjacent sections are supported on timber trestles with another submarine section underneath Newark Slough. The San Francisco Public Utilities Commission (SFPUC) engaged OPAC to prepare a seismic vulnerability study, seismic retrofit recommendations, decommissioning study and maintenance plan. The directive for the seismic vulnerability study is to address the serviceability and safety of BDPL 1 & 2 for the next 15 years until a new replacement facility is built. Ground motions were selected to have a 10% probability of exceedance in 13 years, or a return period of approximately 125 years. SFPUC will likely decommission the Dumbarton Crossing after the new replacement facility is put into service.