Arch Bridges
OPAC's work on arch bridges included design, design review, construction review, construction support and seismic evaluation. Our principals have contributed creative design solution in some unique arch bridge projects prior to OPAC. Use the Personnel menus above to browse their individual arch bridge portfolios.
OPAC Arch Bridges (8 Total, 5 on this page)
---
Hoover Dam Bypass: Colorado River Bridge - Construction Engineering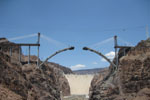 Construction engineering for a 1,090 ft concrete arch bridge downstream of the Hoover Dam.
Nevada-Arizona. Construction completion 2010
---
Iron Horse Trail Pedestrian Overcrossing - Construction Engineering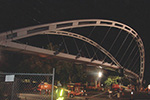 Construction engineering for a pedestrian overcrossing in Walnut Creek, CA
Contra Costa County, CA. Construction completion (estimated) 2010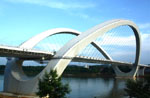 A 300 m span steel arch bridge across the Yong River. The arch ribs are steel box sections and the deck consists of a steel box girder with an orthotropic deck.
Nanning City, China. Construction completed 2009
---
Berkeley I-80 Pedestrian Overcrossing - Design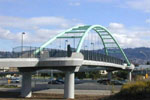 A 90 m span arch bridge for pedestrian and bicycle across the I-80 freeway in Berkeley. The steel arch ribs consist of curved inclined steel pipes in a basket handle configuration.
Berkeley, California. Construction completed 2002
---
Arroyo Seco Bridge - Seismic Retrofit Design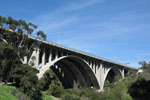 Seismic retrofit of a historic concrete arch bridge in Southern California, using composite fiber wrap of the spandrel columns.
Pasadena, California. Construction completed 2000
---