OPAC Featured Projects
OPAC has a broad portfolio of completed bridge and structural engineering projects. Listed below are a few of our signature projects for which we have written longer Feature Articles. Use the submenus above to browse more complete listings of projects by structure type.
Featured Projects: (5 Total, 5 on this page)
---
Berkeley Pedestrian Overcrossing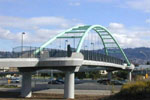 A 90 m span arch bridge for pedestrians across the freeway in Berkeley. The steel arch ribs consist of curved inclined steel pipes in a basket handle configuration.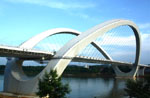 A 300 m span steel arch bridge across the Yong River. The arch ribs are steel box sections and the deck consists of steel box girder with orthotropic deck.
---
Arroyo Cangrejillo Pipeline Bridge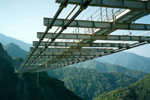 A 337 m span unstiffened suspension bridge across an environmentally sensitive valley in Argentina. The bridge carries a foot path and mining copper-concentrate pipeline.
---
Seismic Analysis of the San Francisco - Oakland Bay Bridge, West Bay Suspension Spans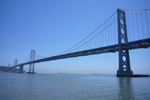 A seismic analysis of the existing West Bay Crossing of the San Francisco - Oakland Bay Bridge was performed for the California Department of Transportation to determine the seismic vulnerability and retrofitting requirements of the structure.
---
Third Carquinez Strait Bridge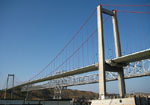 A 728 m span suspension bridge with steel orthotropic deck. The new suspension bridge replaced a 75 year old truss bridge across the Carquinez Strait.
---