Cable Supported Bridges
OPAC's work on cable-supported bridges included design, design review, construction engineering, seismic evaluation and engineering investigation. We designed the longest span new suspension bridge in the United States in over 35 years when it was completed. Our principals have worked on design and construction engineering on a few cable-stayed bridges prior to OPAC. One of our principal directed the precedent-setting seismic evaluation and retrofit strategy studies of the Golden Gate Bridge in the late 1970's. Use the Personnel menus above to browse their individual cable-supported bridge portfolios.
OPAC Cable Supported Bridges (19 Total, 5 on this page)
---
Self-Anchored Suspension Bridge - Construction Engineering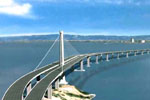 Engineering of temporary support structures for the Self Anchored Suspension Bridge signature span of the San Francisco - Oakland East Bay Crossing.
San Francisco-Oakland, California. Construction completion scheduled 2012
---
Hoover Dam Bypass: Colorado River Bridge - Construction Engineering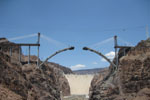 Construction engineering for a 1,090 ft concrete arch bridge downstream of the Hoover Dam.
Nevada-Arizona. Construction completion 2010
---
Manhattan Bridge - Value Analysis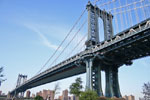 Value analysis for seismic assessment and retrofit of a historic suspension bridge.
Brooklyn-Manhattan, New York. Value analysis completed 2007
---
Shenzhen Western Corridor Bridge - Design Supervision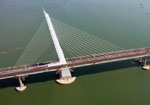 Design supervision and review for a 3.8 km long bridge between Shenzhen and the Hong Kong SAR, with separate 210 m span asymmetrical single-tower cable-stayed units across two navigation channels, and 75 m span concrete box girder viaducts.
Shenzhen, China. Construction completed 2005
---
Third Carquinez Strait Bridge - Design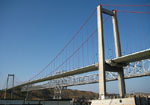 A 728 m span suspension bridge with a steel orthotropic deck. The new suspension bridge replaced a 75 year old truss bridge across the Carquinez Strait.
Sacramento River, Crockett - Vallejo, California. Construction completed 2004
---