Bridges
---
OPAC Bridge Projects: (48 Total, 5 on this page)
---
Romain Street Pedestrian Overcrossing - Seismic Retrofit Design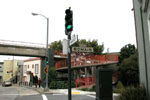 Seismic retrofit design of a pedestrian bridge in San Francisco.
San Francisco, California. Design Completed 1998
---
Gibraltar Bridge - Feasibility Study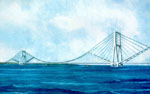 Structural feasibility study for building a 14 km long bridge across the Strait of Gibraltar, with maximum suspended spans of 5000 m. Studies focused on developing a structural system with the rigidity and dynamic characteristics necessary to assure adequate aerodynamic performance.
Strait of Gibraltar, Spain-Morocco. Study completed 1996
---
Bi-Tan Suspension Bridge - Design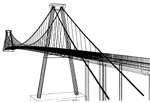 Design of a 133 m span suspension bridge for pedestrians across Hsintien Creek in Taiwan.
Taipei, Taiwan. Design completed 1996
---
Lake Redding Bridge - Design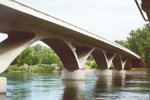 Design of a 5-span post-tensioned concrete arch bridge over the Sacramento River. The new bridge reflects and respects the adjacent Diestelhorst Bridge, a historic arch bridge of architectural significance.
Redding, California. Construction completed 1996
---
St. Johns Bridge - Seismic Susceptibility Study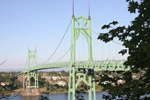 Seismic susceptibility study of a historic suspension bridge across the Willamette River.
Portland, Oregon. Investigation completed 1996
---