Bandung Bridge
---
Bandung, Indonesia
Client:
T.Y. Lin South East Asia, Singapore
Contact:
Teh Hee Seang
Project Manager
Tel 5332600
Date:
Concept design completed 2003
Scope of work:
Concept Design
Construction cost:
N/A
Services Performed:
Bridge type selection
Concept design
Issues: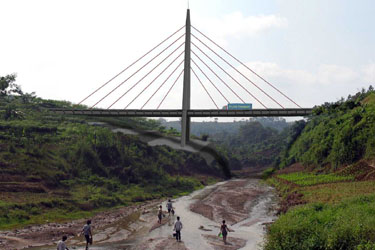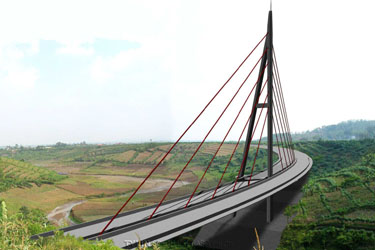 OPAC and Professor T. Y Lin were commissioned to prepare design concepts for a highway bridge near the city of Bandung, Indonesia. Bandung is on a plateau in the foothills of West Java, with rivers flowing from the surrounding mountains. The bridge will serve a new township development that is planned to include housing, university, hospital, school, museum, hotel, etc. Roads and bridges are being built currently to prepare for development of landed housing. The bridge site is at a very prominent location within the development, and the structure is to provide a gateway to facilities including the proposed Pahrahyangan University. The owner has requested a prominent and outstanding "icon" bridge, with modern architecture and to reflect the "knowledge" theme of the development. Two bridge concepts; a cable-stayed and arch were developed, for selection of a preferred option for further development. These two concepts share a common design philosophy and many design features.
The curved plan geometry is accommodated by inclining the supporting elements, to achieve unique aesthetics and near-ideal structural performance.
The roadway consists of a continuous post tensioned concrete box girder, supported on its centerline by cables tied to the tower or arch rib. The intermediate support locations are kept well clear of the unstable slopes and flowing water of the ravine.
The deck width required to accommodate the inclined tower or arch rib would be somewhat wider than minimum feasible 22.5 meters.
The resulting designs provide differing and unique paradigms for the aesthetics and construction of the bridge.