George Washington Bridge
---
New York, New York
Client:
Port of New York City Authority
Date:
Study completed 2002
Scope of work:
Engineering Study
Construction cost:
N/A
Services Performed:
Engineering studies
Design review
Issues:
Historic bridge structure
Orthotropic deck on suspension bridge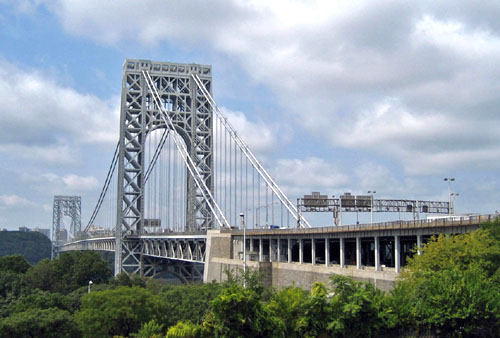 The George Washington Bridge carries Interstate 95 traffic across the Hudson River, connecting the Washington Heights of Manhattan in New York City to Fort Lee in New Jersey. The 4670 ft long suspension bridge has a main span of 3500 ft. The George Washington Bridge is considered one of the world's busiest bridges in terms of vehicle traffic. The upper level of the bridge carries four lanes of traffic and one pedestrian path in each direction. The lower level carries three lanes of traffic in each direction.
The superstructure of the bridge is a steel stiffening truss system. The floor systems consist of concrete slabs supported on steel stringers and floor beams. The trusses are supported by the suspenders and by rocker posts at the towers. When the bridge was built in 1931, there was only concrete deck on the upper level for traffic. In the 1960's, the Port of New City Authority added a second steel orthotropic deck at lower level for additional traffic capacity (this addition was accounted for in the original design). At the same time, the agency also replaced the upper concrete deck with the same steel orthotropic deck. The arrangement of the steel orthotropic deck design created many joints along the length of the bridge, causing numerous maintenance issues.
In 2002, a comprehensive rehabilitation study was initiated by the agency's prime consultant Roman Wolchuk Consulting Engineers to close the joints, and address other condition and maintenance issues .
OPAC was engaged by Roman Wolchuk to perform engineering studies and to provide technical consultation on the overall engineering design.