Berkeley I-80 Pedestrian Overcrossing
---
Berkeley, California
Client:
City of Berkeley
Jeffrey Egeberg
Manager of Engineering
1947 Center Street
4th Floor
Berkeley, CA 94704
Tel 510-981-6400
Date:
Construction completed 2002
Design completed 2000
Scope of work:
Design
Construction cost:
US$ 4,500,000
Services Performed:
Bridge site selection
Conceptual design and type selection
Final design and bid document
Construction support
Issues:
Extensive public process
Challenging bridge alignment
Visually innovative bridge design
Design for high seismic zone
Complex construction staging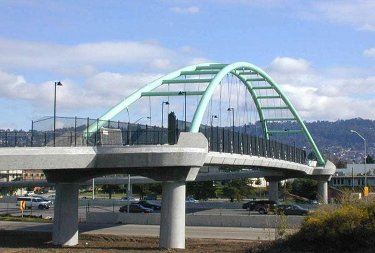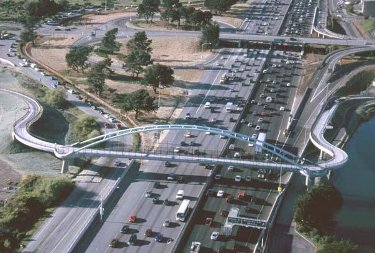 OPAC was the Prime Designer responsible for complete design and construction support engineering for this overcrossing that provides ADA-compliant access between the City of Berkeley and the Eastshore Regional Park (Berkeley Marina) to pedestrians, bicyclists, and wheelchairs. Its 90 meter main arch span across one of the most congested freeways in North America provides an architectural landmark for the City. The bridge was designed to meet strict seismic criteria for a near-field M7.1 earthquake on the Hayward fault, about 3 km from the site.
For the main arch span, a construction program was developed to allow direct erection of the deck and all-welded steel pipe ribs to prescribed geometry without subsequent re-adjustment of cables. The construction program consisted of casting the deck girder on falsework, erecting the arch ribs above the deck on temporary bents, connecting the suspender ropes, then stressing tendons in the deck to spring the arch and lift the deck off the falsework, and finally casting closure segments and stressing the approaches.
To validate the construction program, OPAC developed an SFRAME/S3D computer model for time dependent step-by-step erection sequence analysis of the bridge, including analysis stages for casting of concrete, erection of steel arch ribs, stressing of cables, and removal of formwork. Based on this computer model, OPAC established camber requirements for the deck, rigs, and approaches. This technically advance bridge was built essentially as specified, and met its final target force and camber requirements without the need for further suspender readjustment.