Design Services
---
Selected OPAC Design Projects: (31 Total, 5 on this page)
---
Millennium Gateway Bridge - Design Study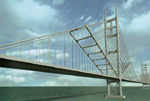 Conceptual design and structural type selection for a 3.5 km long bridge connecting Penang with the Malaysia mainland. Structural types considered included suspension, cable-stayed, and hybrid systems to meet functional and aesthetic requirements.
Strait of Penang, Malaysia. Study completed 1998
---
Arroyo Cangrejillo Bridge - Design and Construction Supervision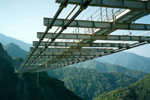 Design and construction supervision of a 337 m span unstiffened suspension bridge across an environmentally sensitive valley in Argentina. The bridge carries a foot path and mining copper-concentrate pipeline.
Andalgala, Catamarca, Argentina. Construction completed 1998
---
Romain Street Pedestrian Overcrossing - Seismic Retrofit Design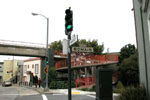 Seismic retrofit design of a pedestrian bridge in San Francisco.
San Francisco, California. Design Completed 1998
---
Pittsburg Coke Storage Domes - Design and Contractor Support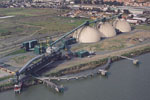 Design of three reinforced concrete petroleum coke storage domes at the Pittsburg Marine Terminal. Each hemispherical dome is 160 feet in diameter.
Pittsburg Marine Terminal, Pittsburg, California. Construction completed 1997
---
Bi-Tan Suspension Bridge - Design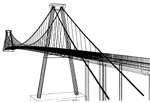 Design of a 133 m span suspension bridge for pedestrians across Hsintien Creek in Taiwan.
Taipei, Taiwan. Design completed 1996
---