Shenzhen Western Corridor Bridge
---
Shenzhen, China
Client:
Shenzhen City Government, China
Date:
Construction completed 2005
Scope of work:
Design Supervision
Construction cost:
US$ 400 million
Services Performed:
Design supervision
Wind design review
Seismic design review
Overall structural durability review
Constructability review
Pavement design for the orthotropic deck
Issues:
Complex construction
Visually innovative bridge design
Design for high seismic zone
Deep water construction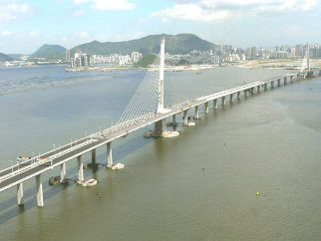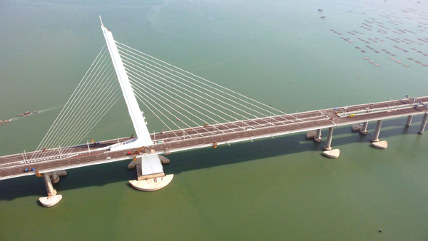 The Shenzhen Western Corridor Bridge is a 3.8 km long dual-carriageway 3-lane bridge connecting the Shenzhen portion of the Shenzhen Western Corridor at the Hong Kong SAR boundary with the Deep Bay Link at Ngau Hom Shek. The bridge consists of north approach spans, north navigation channel span, center connector spans, south navigation channel span and south approach spans. The channel spans are asymmetrical single-tower cable-stayed bridges with span length up to 210m. The approach spans and the connector spans are 75m span concrete box girders.
The Shenzhen City Government engaged the joint venture of OPAC/LTYC and Sichuan Design Institute to provide design supervision and review services for this project. OPAC was responsible for reviewing wind design, seismic design, overall structural durability, constructibility and pavement design for the orthotropic deck.
For the constructability review, OPAC developed the segmental erection sequence for the bridge superstructure, including segment-by-segment erection of steelwork, placement of concrete, stressing of cables, and moving of formwork. Based on this sequence, OPAC developed a complete time-dependent erection sequence computer model in the SFRAME/S3D computer program, to track each construction stage and time dependent behavior.