Third Carquinez Strait Bridge
---
Sacramento River, Crockett - Vallejo, California
Client:
California Department of Transportation
1801 - 30th Street
Sacramento, CA 95816
Brian Maroney
Tel: 916-227-8867
Email:
brian_maroney@dot.ca.gov
Date:
Construction completed 2004
Design completed 2000
Scope of work:
Design
Construction cost:
US$ 225 million
Services Performed:
Conceptual design and type selection
Final design
Wind section model test and dynamic analysis
Engineering support during construction
Issues:
Peer review process
Visually innovative bridge design
Design for high seismic zone
Complex construction staging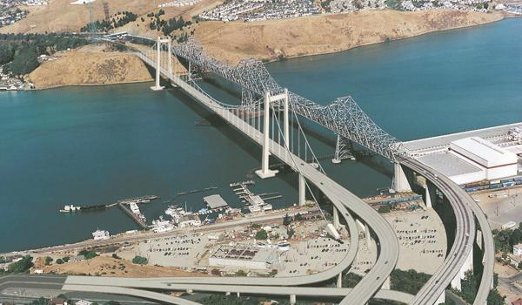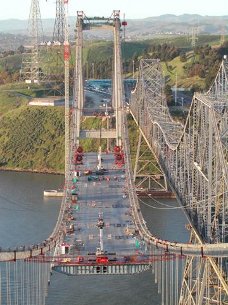 The Third Carquinez Strait (Al Zampa Memorial) Bridge carries Interstate Highway 80 across the Sacramento River, replacing a structurally deficient truss bridge that was built in 1927. The suspension bridge has a main span of 728 meters, drilled shaft foundations in the river, reinforced concrete towers, and an aerodynamically streamlined steel orthotropic deck. It was the longest span new bridge in the United States in over 35 years when it was completed.
OPAC first presented a suspension bridge concept-study for this bridge to Caltrans in 1996. Later that year, OPAC was engaged by Caltrans to advance the design concepts for cable-stayed, suspension, arch and truss alternatives. In 1997, the De Leuw-OPAC-Steinman Joint Venture was engaged by Caltrans to design the bridge.
OPAC led the design team through 35% design, and was responsible for wind, seismic, constructibility, and performance validation through 100% design. To support construction, OPAC performed time dependent step-by-step construction analysis of towers with SFRAME/S3D to evaluate vertical camber and long-term shortening, and an inelastic tower analysis under pull-back and wind to evaluate extent of cracking and cumulative effects of wind on top of pull-back at selected construction stages.
In form and construction method, the bridge is essentially identical to the original OPAC proposal of 1996.
The bridge represents several design advancements for suspension bridges in North America and the world. It is the first U.S. suspension bridge with shaft foundations, reinforced concrete towers, and/or a steel orthotropic box girder deck. It is the first new California bridge designed to strict toll bridge seismic criteria, which require repairable damage in a M7.1 event on the nearby Franklin Fault.