Tacoma Narrows Bridge
---
Tacoma, Washington
Client:
Washington State Department of Transportation
Date:
Evaluation completed 1993
Follow-up work completed 2000
Scope of work:
Seismic Evaluation
Construction cost:
N/A
Services Performed:
Criteria development
Foundation modeling
Global demand modeling
Response analysis
Vulnerability evaluation
Retrofit concepts
Follow-up work to support final design of retrofitting measures
Issues:
State of the art seismic analysis
Evaluation of a historic suspension bridge
Multi-support dynamic analysis
Development of ground motions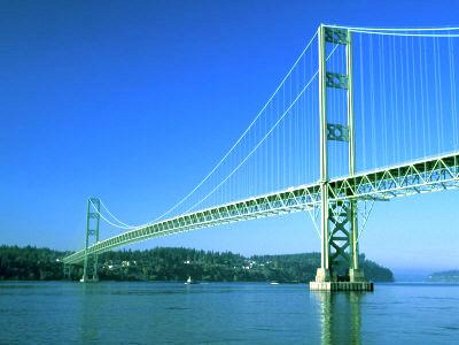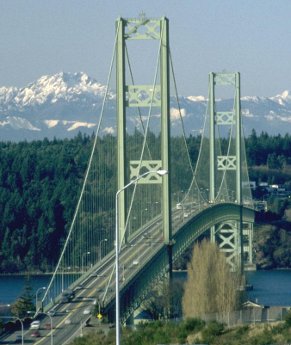 This 2800-ft span suspension bridge, built in 1950 to replace its failed predecessor, was evaluated for seismic vulnerability and retrofit requirements. The consultant team to Washington DOT was Arvid Grant Associates and OPAC. Scope included seismic risk and structural components:
Seismic hazard analysis. Evaluation of ground motion characteristics for earthquakes of varying probability. The influences of major Cascadia Subduction Zone earthquakes were considered.
Synthesis of ground motions at each support under moderate and maximum credible earthquakes.
Three-dimensional linear and nonlinear analysis of the bridge with multi-support excitation. The effects of soil-structure interaction were considered.
Assessment of the performance and safety of each structural element in the superstructure and substructure. Load capacities, deformation capacities, and cyclic behavior were considered.
Identification of deficiencies that have the potential to cause unsatisfactory seismic performance.
Identification of design concepts and cost estimates for bringing the bridge to its target resistance.