St. Johns Bridge
---
Portland, Oregon
Client:
Oregon Department of Transportation
Robert Thompson
Tel. 503-986-3399
Date:
Investigation completed 1996
Scope of work:
Seismic Susceptibility Study
Construction cost:
N/A
Services Performed:
Criteria development for final design
Foundation modeling
Global demand modeling
Local capacity modeling
Response analysis
Vulnerability evaluation
Retrofit concepts
Follow-up work to support final design of retrofitting measures
Issues:
State of the art seismic analysis
Evaluation of a historic suspension bridge
Multi-support dynamic analysis
Development of ground motions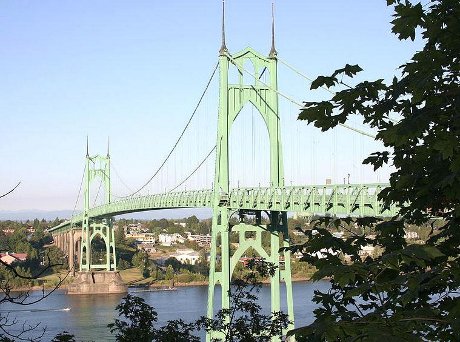 OPAC participated in a comprehensive condition assessment, load rating, and seismic study of the historic St. Johns Bridge across the Willamette River in Portland, Oregon. The consultant team to Oregon DOT was Steinman and OPAC. OPAC was responsible for the seismic component, including structural and geophysical components for the 1200 ft span, 65-year-old suspension bridge. The seismic component of the project scope consisted of simplified assessments of bridge performance, vulnerability, and retrofit requirements. Principal deliverables included:
Seismic hazard and ground motions. Evaluation of site-specific spectra and multi-support ground motions based on existing state-wide seismic studies.
Component modeling of foundations, piers, and superstructure to estimate dynamic characteristics and push-over displacement capacities.
Three-dimensional modeling and dynamic analysis with multi-support excitation, to evaluate seismic demands.
Vulnerability assessment using displacement based criteria for inelastic demands and capacities.
Identification of design concepts for bringing the bridge into compliance with State of Oregon criteria
Development of a comprehensive seismic evaluation plan.