SFIA Offshore Runway Study
---
San Francisco International Airport, California
Client:
City and County of San Francisco, Airfield Development Bureau
Date:
Study completed 2000
Scope of work:
Preliminary Design
Construction cost:
US$ 1.5 Billion (estimated)
Services Performed:
Development of structural concepts
Preparation of cost estimates
Issues:
Design of pile supported runway
Deep water construction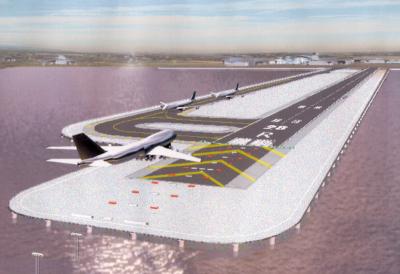 The Airfield Development Bureau of the San Francisco International Airport is considering construction of new runways in San Francisco Bay as a way to end chronic bad-weather delays, accommodate a new generation of larger jets, improve safety, and cut noise in surrounding communities. An international design competition for runway design and construction schemes was held and five project teams were selected to complete and refine their concepts.
AGS with OPAC was one of the selected teams. OPAC's scope included preparation of structural concepts, plans, constructibility reviews, cost estimates, and presentations. Several superstructure and foundation types were considered to provide optimal functionality, constructibility, performance, and life-cycle maintenance costs.
OPAC's final scheme consisted of a precast, prestressed concrete superstructure built using segmental bridge technology. Foundations were cast-in-place concrete piles, with carbon-fiber confined columns connecting to the superstructure. The transition zone between the new and existing runways consists of earth fill retained by concrete pile walls along the fill perimeter.