SFIA Upper Level Viaduct
---
San Francisco, California
Client:
California Department of Transportation
Date:
Retrofit design completed 2000
Scope of work:
Seismic Retrofit Design
Construction cost (estimate):
US$ 12,000,000
Services Performed:
Performed seismic vulnerability analysis
Prepared retrofit strategy alternatives
Performed independent check of retrofit PS&E
Issues:
Vulnerability and retrofit engineering
Nonlinear seismic analysis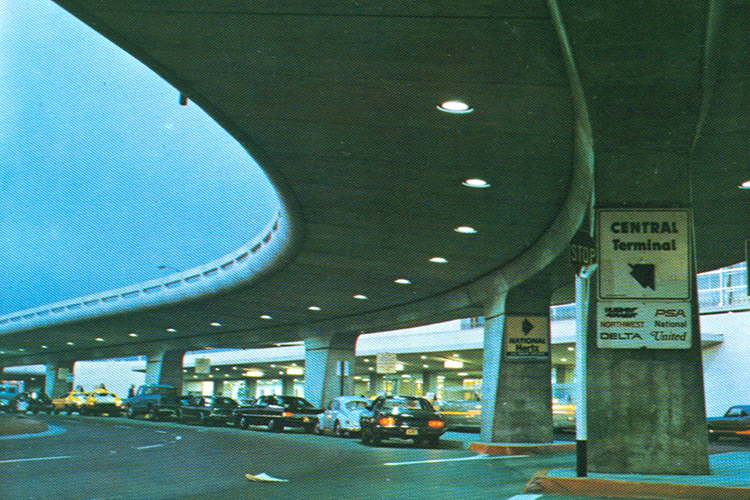 The Upper Level Viaduct at San Francisco International Airport was constructed in 1973 and consists of two viaducts providing vehicular access to the upper (departures) level of the existing domestic terminals. The viaducts are interconnected at various locations by crossover slabs to permit traffic and pedestrians to pass from one viaduct to the other. The viaducts are post-tensioned lightweight concrete wing girder construction, consisting of a deck slab poured over precast deck elements supported on a cast-in-place spine beam. Each viaduct has a deck width of 44 feet with spans ranging from 40 feet to 74 feet in length. Columns are tapered reinforced concrete and are supported on precast prestressed piles of up to 120 feet length.
OPAC was a subconsultant to Creegan + D'Angelo for the seismic vulnerability analysis, development of seismic retrofit strategy and preparation of seismic retrofit PS&E for this bridge. OPAC performed seismic vulnerability studies, prepared retrofit strategy alternatives and performed independent check of retrofit PS&E using global response spectrum analysis, global non-linear time history analysis, and non-linear displacement-based demand analysis and capacity evaluation methods. This project was characterized by Caltrans as a "difficult" seismic retrofit.