Ringling Causeway Bridge
---
Sarasota, Florida
Client:
Legal dispute team, will disclose upon request
Date:
Investigation completed 2009
Scope of work:
Engineering Investigation
Construction cost:
N/A
Services Performed:
Review of engineering record
Field observations
Review of structural performance requirements
Analytical studies of original design
Assessment of compliance of original design
Issues:
Failure analysis of a major bridge
Time dependent analysis of segmental bridge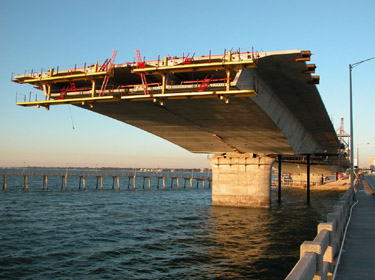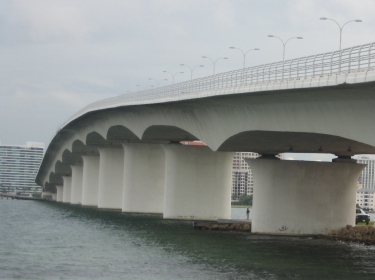 The Ringling Causeway Bridge is an eleven span precast concrete segmental box girder crossing of Sarasota Bay that was built alongside an older bridge that was subsequently demolished. The bridge structure is a multi-cell post tensioned concrete box girder with spans of about 184 feet to about 300 feet, supported by reinforced concrete piers and footings on drilled shafts. Superstructure erection was by balanced cantilever method with precast segments; pier segments and closures were cast in place. Two precast half-segments were used over the width of the single three-cell girder. The final girder section is symmetrical about its mid-width, but the individual half-segments are not.
During erection of the first spans of the segmental superstructure, some unanticipated cracking of the superstructure was observed. Consequently the construction was delayed, the erection scheme was revised to preclude further cracking, and supplementary post tensioning was incorporated into the design. Bridge construction was finally completed without additional such cracking. The bridge is now in service.
In response to legal dispute, OPAC Consulting Engineers was engaged by one of the legal teams to conduct engineering investigation of the design in July 2005. The purpose of the engineering investigation was to assess the compliance of principal components of the design with the structural requirements of applicable bridge design specifications.
OPAC's technical Scope of Work included engineering records review, structural performance requirements review, field observations, analytical studies of the design, and assessment of the compliance of the design of principal bridge components. OPAC performed 3D time-dependent stage-by-stage analysis using SFRAME/S3D to support the studies. These studies led to development of findings to assess the compliance of the design.