Rama IX Bridge Tenth Year Inspection
---
Bangkok, Thailand
Client:
Expressway and Rapid Transit Authority of Thailand
Date:
Evaluation completed 2001
Scope of work:
10th Year Inspection & Evaluation
Construction cost:
N/A
Services Performed:
Physical inspection of bridge
Static and dynamic structural analysis
Fatigue life assessment
Maintenance recommendations
Structural health monitoring system
Measurement of transient strains
Bridge deck profile monitoring
Inspection report
Issues:
Cable stayed bridge analysis
Structural inspection
Fatigue evaluation
Dynamic analysis of traffic-induced vibrations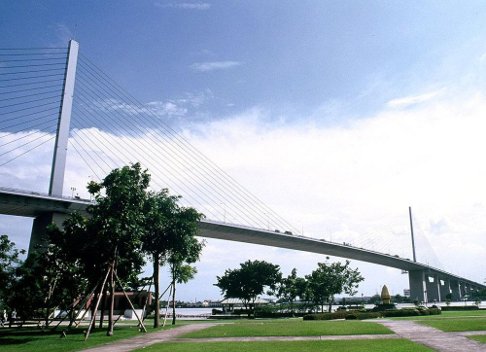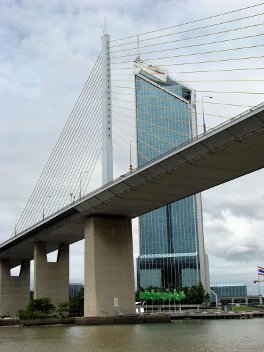 The Rama IX Bridge carries six lanes of expressway traffic across the Chao Phraya River in Bangkok, Thailand. The river crossing is a single-plane cable-stayed bridge with a 450-meter main span and two 166-meter side spans. Its steel box girder with orthotropic deck and steel pylons are supported on concrete piers and pile foundations. It was the second-longest cable-stayed span in the world when it was completed in 1987. To this day, it remains the longest span single-plane cable-stayed bridge in the world.
The Expressway and Rapid Transit Authority of Thailand (ETA) programmed a tenth-year inspection of the bridge to assess the current bridge condition and to recommend needed mitigation and modifications to long-term maintenance. A major concern of ETA was the nearly continuous motions of its deck that occur under ordinary service conditions. A project team consisting of OPAC, AES Group (Bangkok), and Kinemetrics (Pasadena, California) was engaged by ETA to perform the inspection.
OPAC's primary responsibilities included physical inspection, static and dynamic structural analysis, fatigue life assessment, and preparation of maintenance recommendations. Additional project scope items included installation of a new structural health monitoring system, measurement of transient strains under service conditions, and bridge deck profile monitoring.