Porter Creek Bridge
---
Sonoma County, California
Client:
E. & J. Gallo Winery
Modesto, California
Ron Peterson
Tel. 209-341-4208
Date:
Design completed 2002
Construction completed 2003
Scope of work:
Design
Construction cost:
US $240,000
Services Performed:
Site Study
Preliminary and Final Design
Preparation of bid plans
Construction support
Issues:
Seismic design
Precast girder design
Construction in sensitive riparian environment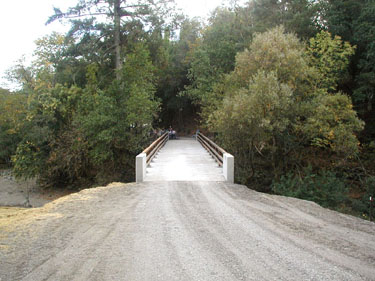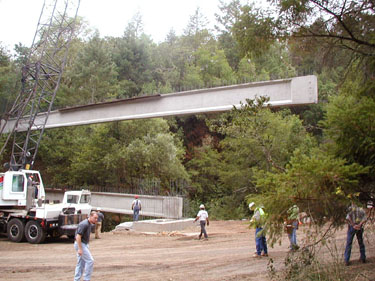 This privately-owned one-lane bridge at the Twin Valley Ranch in Sonoma County carries a new access road across Porter Creek to provide improved access to vineyards and the related processing facilities. In order to conform with the California Department of Fish and Game requirements, a clear span of 110 feet was established. This allowed for a streambed undisturbed during most of the construction and kept the abutments well clear of high water flows during the winter and spring seasons. The design consists of a simple span superstructure, concrete bridge posts integral with the abutments and tubular steel bridge rails for strength, durability and aesthetics. To save construction cost, the bridge is supported on spread footings which may slide laterally as much as 10 inches during a maximum credible earthquake. County standards required a minimum roadway width of 12 feet and HS20-44 live loads. OPAC was engaged by E. & J. Gallo Winery to design the bridge and provide engineering support during bidding and construction. Two preliminary design types were prepared, one a precast girder alternative and the other a composite steel girder alternative. Based on preliminary cost quotes from local contractors, the precast girder bridge was selected for final design.