Memorial Causeway Bridge
---
Clearwater, Florida
Client:
Legal dispute team, will disclose upon request
Date:
Investigation completed 2009
Scope of work:
Engineering Investigation
Construction cost:
N/A
Services Performed:
Review of engineering record
Field observations
Review of structural performance requirements
Analytical studies of original design
Assessment of compliance of original design
Issues:
Failure analysis of a major bridge
Time dependent analysis of segmental bridge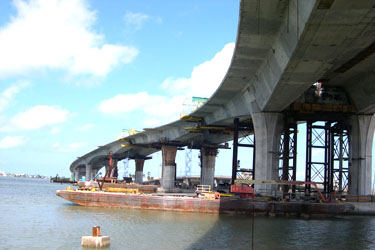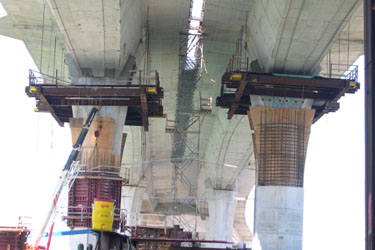 The Florida SR60 Memorial Causeway is a four-lane, fixed span bridge that crosses the Intracoastal Waterway between Clearwater and Clearwater Beach, Florida. The bridge consists of a nine-span 2,340 ft long segmental concrete girder with two single-cell boxes. The bridge is on an S-shaped alignment, with a maximum span length of 360 feet. The bridge was designed to be built independently by the free cantilever method using cast-in-place segments, with a longitudinal closure to join the girders into a single structure. The project was bid under a traditional design-bid-build model. After the construction contract was executed, the contractor submitted a Value Engineering Change Proposal (VECP) to reduce construction costs. Following the January 26-27, 2004 wind event, cracking was discovered in some piers and footings while the bridge was still under construction, resulting in additional work by the contractor to repair and to replace the damaged structures. Remedial work was completed and traffic was shifted to the new bridge in August 2005; final project completion was in February 2006.
In response to legal dispute, OPAC Consulting Engineers was engaged by one of the legal dispute teams to conduct engineering investigations and independent analysis of the VECP design in May 2004. The purpose of the independent analysis was to assess the compliance of principal components of the design with the structural requirements of applicable bridge design specifications.
OPAC's technical Scope of Work included engineering records review, structural design and performance requirements review, field observations, analytical studies of the VECP design, and assessment of the compliance of the design of principal bridge components. OPAC performed 3D time-dependent stage-by-stage analysis using SFRAME/S3D to support the studies. These studies led to development of findings to assess the compliance of the VECP design.