Lake Redding Bridge
---
Redding, California
Client:
City of Redding, California
Jon McClain
Tel 530-225-4170
Date:
Construction completed 1996
Design completed 1994
Scope of work:
Design
Construction cost:
US$ 3,200,000
Services Performed:
Conceptual design and type selection
Final design check
Engineering support during construction
Issues:
Visually innovative bridge design
Design for environmentally sensitive site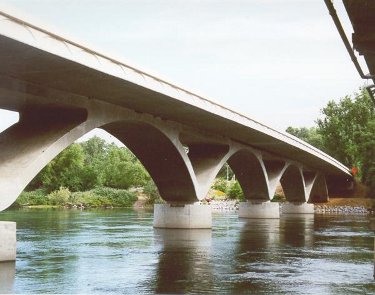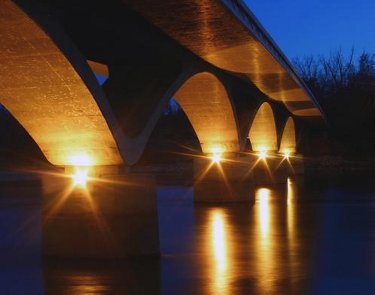 The new Lake Redding Bridge over the Sacramento River in Redding, California is a 5-span post-tensioned concrete structure with a single narrow arch rib supporting a wide cantilevered deck. It was built parallel to the Diestelhorst Bridge, an existing 75 year old historically and architecturally significant concrete arch bridge. The new bridge reflects and respects the historic bridge using a modern structural form with similar overall proportions and state-of-the-art construction methods. OPAC provided structural design services for the Lake Redding Bridge to prime local consultant Martin & Kane, including preparation of a concept report, type selection, design development, and supervision/chec­king of contract document preparation.
The Diestelhorst Bridge is a 5-span reinforced concrete arch bridge across the Sacramento River, built in 1915. Upon completion of the Lake Redding Bridge in 1997, the Diestelhorst Bridge was removed from highway service and converted to pedestrian use. Project scope of work included structural condition evaluation and rehabilitation design of the existing historical structure.