LAXT Coke Storage Domes
---
Los Angeles Export Terminal, San Pedro, California
Client:
Dome Systems, Inc.
Date:
Construction completed 1999
Scope of work:
Design and Contractor Support
Construction cost:
US$ 12,000,000
Services Performed:
Pre-bid engineering support
Final design
Seismic analysis
Issues:
Design and analysis of an airform reinforced concrete dome
Seismic analysis and design of a concrete shell with contained fill on a soft soil site
Close working relationship with design/ build contractor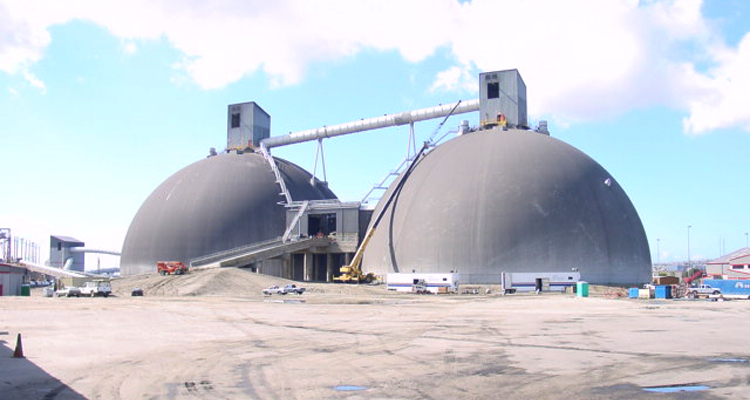 Los Angeles Export Terminal, San Pedro, California, consists of two 75,000 ton capacity petroleum coke storage domes. Each dome is 240 feet in diameter and 130 feet high. The common reclaim tunnel beneath the domes is over 630 feet long and contains the loadout conveyor which transfers the petroleum coke from each of the storage domes to the ship loading system. Both dome foundations and the reclaim tunnel penetrate and are sealed to an existing dual layer membrane which maintains an environmental seal throughout the site. Reclaim from the storage domes is done using vibratory reclaim cones, which deposit the product onto the common reclaim conveyor under the domes. A common entry ramp between the domes allows for end loader and maintenance access. Personnel access to the top of the domes is via the fill conveyor system or the elevated ramp and escape stairs between the domes.