Koror - Babeldaob Bridge
---
Republic of Palau, Micronesia
Client:
Lawsuit defendant - disclosed upon request
Date:
Investigation completed 1998
Scope of work:
Collapse Investigation
Construction cost:
N/A
Services Performed:
Review engineering record
Field observation and data collection
Witness interviews
Analytical studies of original design
Remedial measures study
Issues:
Collapse analysis of a major bridge
Time dependent analysis of segmental bridge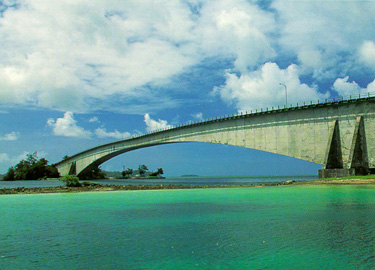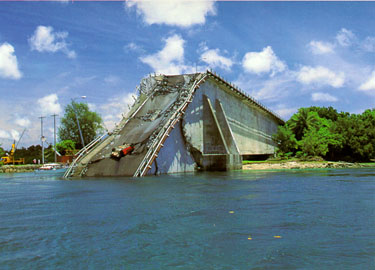 The Koror-Babeldaob Bridge was completed in 1977, to connect the two main islands of the Palau archipelago. Its main span of 241 meters (790 ft) was the longest span post-tensioned concrete box girder bridge structure in the world at the time. Its two lane single cell box girder superstructure was built using cast-in-place segments and a permanent mid-span hinge. The bridge collapsed in September 1996, shortly after completion of construction contracts to replace its pavement and correct the increasing deflections of its main span. After the collapse, and in response to legal action by the owner of the bridge, OPAC Consulting Engineers was engaged by one of the legal defense teams to conduct engineering investigations of the bridge.
OPAC's technical Scope of Work included engineering records review, field observations, data collection, witness interviews, and analytical studies of the original design, the remedial measures, time-dependent structural behavior, and demands vs. capacities in critical structural elements. OPAC performed 3D analysis using SFRAME/S3D to support the studies. These studies led to development of an explanation of the causes of collapse that was supported by the field observations and was adopted as a consensus finding by the various engineers participating in the legal defense team. Since its collapse, the original Koror-Babeldaob Bridge has been replaced by a new bridge of completely different design.