Iron Horse Trail Pedestrian Overcrossing
---
Contra Costa County, CA
Client:
Adams & Smith, Inc.
1280 W. Center Street
Lindon, Utah
Jeff Darby
Tel.801-785-6900
email: Jeff@adamsandsmith.com
Date:
Construction completion (estimated) 2010
Scope of work:
Construction Engineering
Construction cost:
US $8 million
Services Performed:
Prepare erection method proposal
Perform stage by stage erection analysis
Prepare erection manual
Provide geometry control support
Construction engineering support
Issues:
Challenging construction site
Complex construction staging
Requires non-linear, inelastic stage by stage analysis
Strict erection geometry control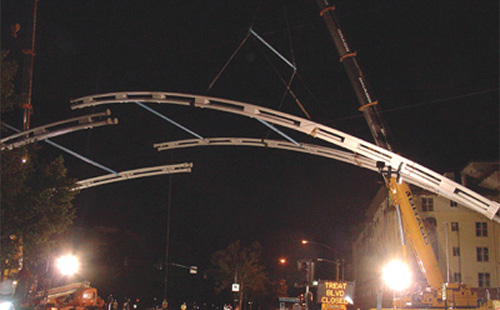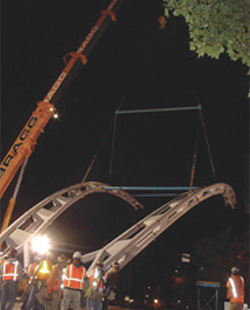 The Iron Horse Trail Overcrossing will carry pedestrian traffic across Treat Boulevard along Jones Road in the City of Walnut Creek, Contra Costa County, CA. This 500 foot long multi-span pedestrian bridge has a steel arch main span with composite steel, concrete bridge deck, and composite steel approach structures founded on cast in drilled hole piling. The butterfly shaped main arch span has inclined arch ribs that span 270 feet. The arches and deck are intended to be erected in stages utilizing temporary towers and braces.
The general contractor for this project is Robert A. Bothman, Inc. of San Jose, California. OPAC was engaged by the steel erector (Adams & Smith, Inc.) to provide the following engineering services during erection:
Develop a 3-D analysis model in coordination with the Integrated 3D CAD Model by the Steel Fabricator.
Perform a structural stage-by-stage analysis for use in the Final Bridge Erection Plan prepared by the Contractor. The structural analysis will be based on the erection methods, sequence, and construction conditions developed by the Contractor in consultation with OPAC. OPAC's proprietary software SFRAME/S3D, will be used for stage-by-stage construction analyses and camber computations.
Perform stage-by stage response spectrum analysis.
Determine element camber, including hanger cable fabrication lengths.
Determine element force demand/capacity ratios for critical erection stages.
Determine bridge geometry control work points and parameters.