Cala Foods Store
---
San Francisco, California
Client:
Cal-Hyde Venture, Vineburg, California
Date:
Services completed 2004
Services started 1998
Scope of work:
Inspection and Evaluation
Construction cost:
N/A
Services Performed:
Seismic evaluation of the shell roof
Preparation of specifications for installation of deck waterproofing systems
Design of repair procedures for structural components
Issues:
Structural evaluation of a concrete shell roof
Development of a building inspection and maintenance program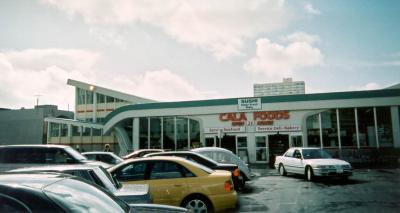 The Cala Foods building at California and Hyde Streets in San Francisco was built in 1960. Its principal architectural feature is a thin shell concrete hyperbolic paraboloid roof that clear-spans the shopping space with no internal columns. The shell roof consists of vermiculite concrete, cast-in-place around a network of reinforcing wires, with architectural and waterproofing treatment on its surfaces. The parking deck is an equally innovative structure, consisting of draped reinforcing bars supporting three to twelve inches of vermiculite concrete fill, topped with a three inch thick lightweight concrete driving surface.
OPAC was engaged by the building's owner to provide engineering services in support of rehabilitation and maintenance of the building. The studies have included 1) structural evaluations for safety and seismic resistance of the shell roof, the parking deck, and other structural components, 2) preparing specifications and supervising installation of parking deck waterproofing systems, 3) design and design-check of tenant improvements, 4) inspection and specification of maintenance procedures, and 5) design of repair procedures for deteriorated or accidentally damaged components.
This on-call project for the building owner is intended to assure that the service life of this unusual building is extended well past its 40-year age and into the new century. This is complicated by its highly innovative and unusual structural system, which is not covered by any building code provisions and which to our knowledge has never been used on any other sizeable building project.