Benicia-Martinez Bridge Pre-Bid Services
---
Benicia - Martinez, California
Client:
California Department of Transportation (Caltrans)
1801 - 30th Street Sacramento, CA 95816
Brian Maroney
Tel: 916-227-8867
Email:
brian_maroney@dot.ca.gov
Date:
Construction completed 2007
Scope of work:
Construction Engineering
Construction cost:
US $1.3 billion
Services Performed:
Preliminary engineering study
Stage by stage segmental bridge erection sequence
Issues:
Bridge construction services
Cast-in-place segmental cantilever construction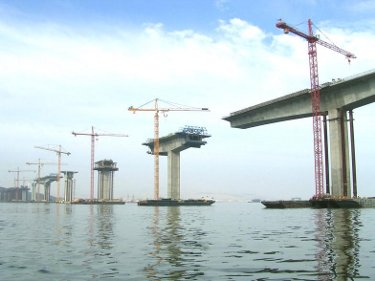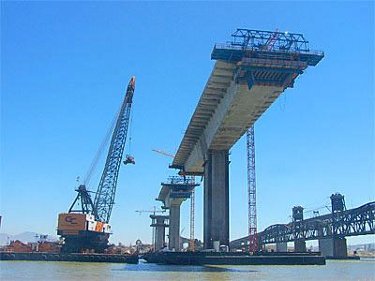 The new Benicia Martinez Bridge is a high-level, 2266-meter-long crossing of the Sacramento River at the east entrance to the Carquinez Strait. The final design of the bridge was carried out by the joint venture team of T.Y. Lin International (TYLI) and CH2M Hill.
Mark A. Ketchum, current OPAC principal, served as Project Manager and Lead Engineer while at TYLI and directed a team of engineers to perform the preliminary engineering study and cost estimate for a high-level, 11-span, 5610-foot-long crossing, which served as the basis for the final design. The study recommended cantilevered construction of 528-ft- span lightweight concrete box girders supported on a 153-ft-tall ductile frame. The specific intent of use of lightweight concrete in the superstructure is to reduce the seismic demands on piers and foundations.
Kwong Cheng, current OPAC principal, served as Supervising Engineer while at TYLI, and performed QA/QC on the project.
During the bidding period, OPAC was engaged by Shimmick Construction to evaluate the specified erection sequence, develop alternative erection sequences and strategies, calculate loads and strength demands on erection equipment for the concrete box girder superstructure, evaluate the prestressing layout, and provide interpretation of the specifications.