BART Warm Springs Extension
---
Fremont, California
Client:
Bay Area Transit Consultants/Bay Area Rapid Transit District
Paul Medved
Principal Engineer
BART
300 Lakeside Drive, 17th Fl.
Oakland, CA 94612
Tel: 510-287-4750
email: pmedved@bart.gov
Date:
Construction completion 2011
Design completed 2009
Scope of work:
Design
Construction cost (estimated):
US $400 million
Services Performed:
Preliminary Design
Final Design
Preparation of bid plans
Construction support
Issues:
Design of transit structures
Design to BART seismic criteria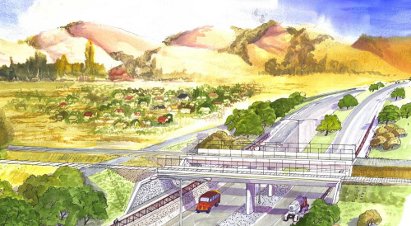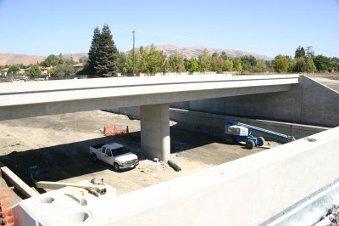 The Bay Area Rapid Transit (BART) District's Warm Springs Extension will extend BART about 5.4 miles south of the existing Fremont Station. The alignment generally parallels portions of the UP railroad corridor and Interstates 680 and 880 in southern Alameda County. The new segment will begin at the southern end of the existing elevated Fremont BART Station. The alignment will pass over Walnut Avenue on an aerial structure and descend into a cut-and-cover subway north of Stevenson Boulevard. The alignment will continue southward in the subway structure under Fremont Central Park and the eastern arm of Lake Elizabeth, and surface to run at grade north of Paseo Padre Parkway. The alignment will pass over Paseo Padre Parkway on an aerial structure and then continue southward at grade to a terminus at Warm Springs and South Grimmer Boulevards in the Warm Springs district.
OPAC Consulting Engineers is serving as a structural subconsultant to the Parsons Brinckerhoff (PB) Team for the preparation of bid plans for inclusion into the Grade Separation package. Ahead of the design-build contract, OPAC designed a BART bridge over Paseo Padre Parkway for inclusion into the City of Fremont's Washington Boulevard/Paseo Padre Parkway Grade Separation Project. As part of the Grade Separation Project, Paseo Padre Parkway will be reconfigured as a vehicular underpass by the City of Fremont. The Paseo Padre Parkway BART Overpass is a 2-span ballasted deck bridge supporting two tracks.