BART to SFO - Millbrae Station
---
Millbrae, California
Client:
Bay Area Transit Consultants/Bay Area Rapid Transit District
Eric Fok
Principal Engineer BART
300 Lakeside Drive, 17th Fl.
Oakland, CA 94612
Tel: 510-287-4889
email: efok@bart.gov
Date:
Construction completed 2002
Design completed 1997
Scope of work:
Design
Construction cost:
US$ 70 million
Services Performed:
Conceptual design
Type selection studies
Preliminary design
Preparation of bid plans for design-build
Issues: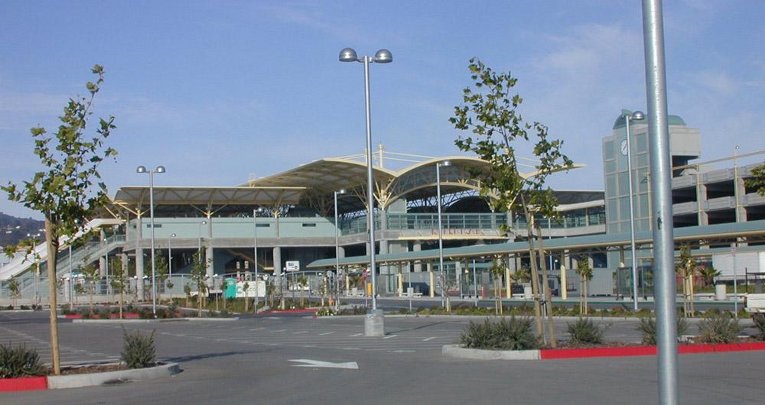 The Millbrae Station is the southernmost station along the Bay Area Rapid Transit District - San Francisco Airport Extension, and serves both BART passengers and Caltrain passengers. Three platforms serve 3 BART tracks and 2 Caltrain tracks.
The principal architectural feature of the Millbrae Station is a cable-supported roof that covers the central portion of the concourse above the train platforms. The vault-shaped roof consists of translucent fabric supported on curved welded pipe-and-tube rigid frames. Support cables extend from eight pairs of towers to the crown and edges of the high roof. Two lower roofs, of similar design but without cable supports, cover extensions of the concourse above the rail platforms.
The station was built around the existing Caltrain tracks, which remained in operation during construction. Post-tensioned concrete beams and slabs supported by ductile concrete columns frame the concourses and platforms. The concrete work was designed for cast-in-place construction, except for the areas over the operating train tracks, where it was designed for precast construction.
OPAC Consulting Engineers prepared the structural design for this design-build project, which was the first design-build project for the Bay Area Rapid Transit District. VBN Architects prepared the architectural design.