Arroyo Seco Bridge
---
Pasadena, California
Client:
California Department of Transportation
1801 30th Street
Sacramento, CA 95816
Date:
Construction completed 2000
Scope of work:
Seismic Retrofit Design
Construction cost:
N/A
Services Performed:
Performed independent design check
Issues:
Seismic retrofit engineering
Concrete member capacity evaluation
Composite wrap seismic upgrade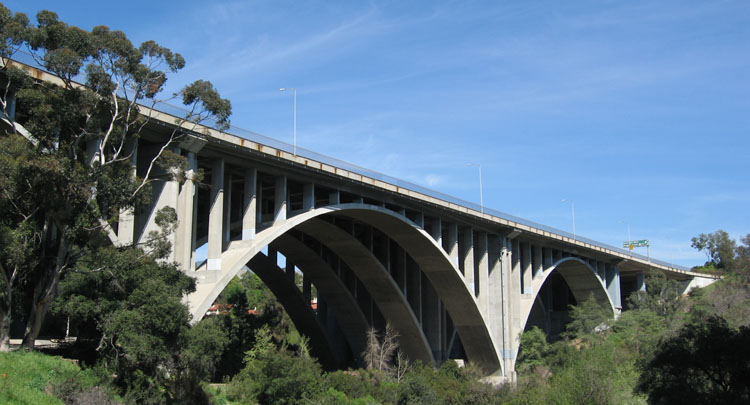 The Arroyo Seco Bridge is a multiple arch bridge spanning 1,364 ft and carrying six lanes of Route 134 (the Colorado Freeway) 120 ft above Arroyo Seco Canyon. It consists of concrete slab arch ribs, concrete spandrel columns, and a concrete deck.
The bridge's 176 spandrel columns range in height from 8 ft to 100 ft. The bottom four feet of each column where they intersect with the arch were strengthened with fiber reinforced epoxy jackets. The retrofit was designed to confine the concrete within the columns and to increase the ductility of the columns to prevent catastrophic failure in the event of an earthquake. The Arroyo Seco project was the first historic arch bridge in California to be retrofitted using composite jackets.
OPAC was consultant to Parsons to provide engineering support services in the seismic retrofit design of the bridge, under contract to the California Department of Transportation (Caltrans). OPAC's work scope for the project included:
Verification of computer seismic-performance modeling and seismic retrofit strategy.
Verification of the capacity and effectiveness of retrofit measures, including the composite column upgrades.
A review and check of all design drawings, quantities, and contract special provisions.
This bridge was characterized by Caltrans as a "difficult" seismic retrofit.